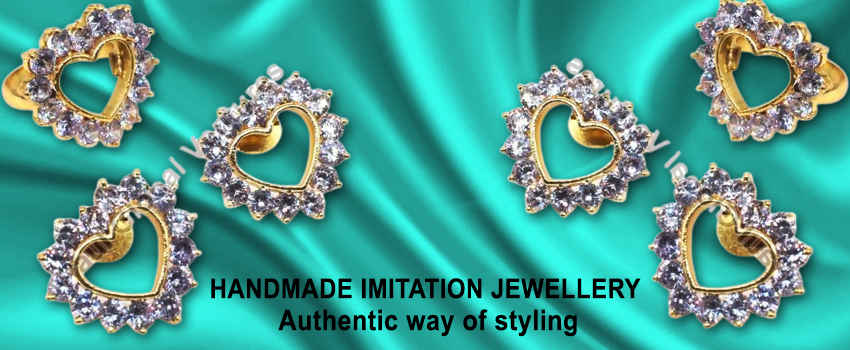 Handmade imitation fashion jewelry is becoming increasingly popular among fashion-conscious consumers. Imitation jewelry refers to pieces that are made to look like real, high-end jewelry, but are made from less expensive materials such as base metals, glass, or plastic. This fashion jewelry, in particular, is highly sought after because it is unique and often one-of-a-kind.
This jewelry offers consumers an affordable and sustainable way to add style and glamor to their outfits. With a wide variety of styles and customizability, consumers can find pieces that reflect their taste and style. And with skilled artisans creating high-quality pieces, consumers can be sure that their handmade imitation fashion jewelry will last for years to come.
Here are some of the key features and benefits of handmade imitation fashion jewelry:
Affordability: This jewelry is often much more affordable than real, high-end jewelry. This makes it accessible to a wider range of consumers who want to add a touch of style and glamor to their outfits without breaking the bank.
Wide variety of styles: It is available in a wide variety of styles, from delicate and understated to bold and statement-making. This makes it easy for consumers to find pieces that suit their taste and style.
Customizability: This is often customizable, meaning that consumers can request specific colors, materials, or styles to suit their preferences. This allows consumers to create truly unique pieces that reflect their individuality.
Sustainability: Because this jewelry is made from less expensive materials, it is often more sustainable than high-end jewelry. This is because it reduces the demand for precious metals and stones that are often mined in environmentally damaging ways.
Handmade quality: It is often made by skilled artisans who take pride in creating high-quality pieces that are both beautiful and durable. This ensures that each piece is unique and made with care.
Important things to consider before buying Handmade Imitation Fashion Jewelry
Material quality: The quality of the materials used in the jewelry will determine its durability and appearance. Look for handmade imitation fashion jewelry made from high-quality materials such as brass, silver or gold-plated metals, glass or acrylic beads, and Swarovski crystals.
Craftsmanship: Handmade jewelry requires skilled craftsmanship. Look for jewelry made by experienced artisans who pay attention to detail and create pieces that are well-crafted and durable.
Design: It offers a wide variety of designs to choose from. Consider your style and preferences when choosing a design that will complement your outfits and reflect your personality.
Comfort: Consider how comfortable the jewelry will be to wear. Look for jewelry that is lightweight and does not cause irritation or discomfort.
Versatility: Look for jewelry that can be worn for different occasions, such as casual or formal events. Versatile jewelry will provide more value for your money and will be more practical to wear.
Cost: This jewelry can range in price depending on the materials and craftsmanship involved. Consider your budget and how much you are willing to spend on a piece of jewelry.
Customer reviews: Before making a purchase, read customer reviews to get an idea of the quality and satisfaction of previous customers.