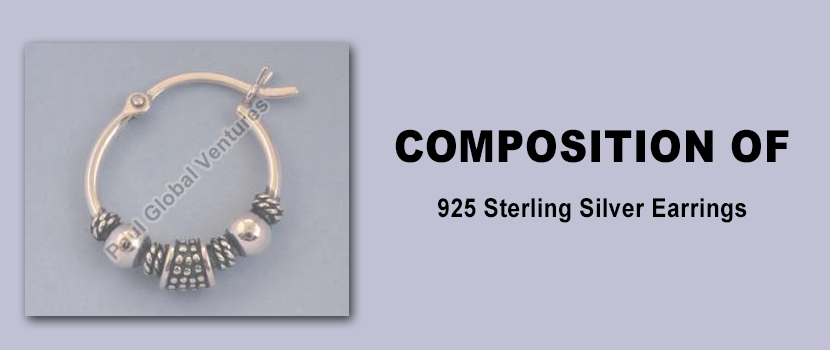 The percentage of pure silver in 925 Sterling silver is 92.5 percent. The remaining 7.5% is made up primarily of copper and other trace components. Since it does not include nickel alloys, sterling silver 925 in particular high grade is ideal for earrings.
Since pure silver is soft and less malleable than sterling silver, it is more difficult to shape into jewelry designs. 925 sterling silver is preferable to pure silver. The metal 925 sterling silver is very strong as suggested by 925 Sterling Silver Earrings exporters.
Pros of wearing 925 Sterling Silver Earrings
Earrings made of sterling silver come in all designs with a lovely, natural brilliance.
White gold jewelry looks fantastic with it.
Sterling silver earrings are available in a wide variety of designs. It is hypoallergenic to use premium sterling silver. For ears with sensitivity, it is appropriate as earrings.
Sterling Silver Earrings Composition
Exceptional adaptability
Silver adds sophistication to every outfit. Even jewelry made of sterling silver can be paired with white gold or platinum accessories. The hues are similar enough to be worn interchangeably.
A jewelry collection with white gold and platinum pieces already in it can easily be expanded with sterling silver pieces. Sterling silver pieces look stunning when used in a metal cross, so you could also add some to a collection of other metals.
Easily Maintained
When worn, all silver can oxidize more quickly than common metals like copper and tin. It is excellent to wear your earrings frequently to stop tarnishing and harming. Your sterling silver jewelry may be easily polished to bring back its original appearance even if it becomes dull. Silver jewelry is simple to clean and may easily have varnish removed.
Numerous Options
You will find a pair of sterling silver earrings that complement your style or personal preference due to the wide variety of types and designs available. Since silver is a rather soft metal, jewelers can easily experiment and mold studs, hoops, and other lovely forms. There are dozens of variations globally and new 925 Sterling pieces available every day to update your collection.
Cost-effective Beautiful Jewelry
Compared to other metals, such as gold, sterling silver is more cheap for jewelry. They appear exquisite in style because of their color resemblance to titanium and white gold. But sterling silver jewelry imitations that are not real are widely available. False sterling silver jewelry, including necklaces, rings, earrings, and other items, is sold by many dishonest jewelers.
Which Type Of Silver Works Best For Earrings?
One of the greatest silvers for earrings is sterling silver 925. Silver jewelry comes in several forms. While some earrings, especially those made of faux sterling silver, are better for sensitive ears. Others, especially those made of gold, can irritate and even trigger allergies.
With premium cubic zircon crystals, 925 sterling silver is embellished. They are nickel-free and subject to strict contact testing. They are also cadmium- and lead-free. They have rhodium plating, corrosion protection, and oxidation resistance.
Conclusion
Genuine sterling silver offers several advantages, making it a wonderful metal to wear every day. Beautiful, adaptable, reasonably priced, and very strong sterling silver.
If you take good care of your jewelry and make sure to keep away from specific substances, you can wear it every day without any problems! Even to bed, you are permitted to wear sterling silver jewelry